Europa Clipper's Surface Dust Analyzer Instrument Delivered to JPL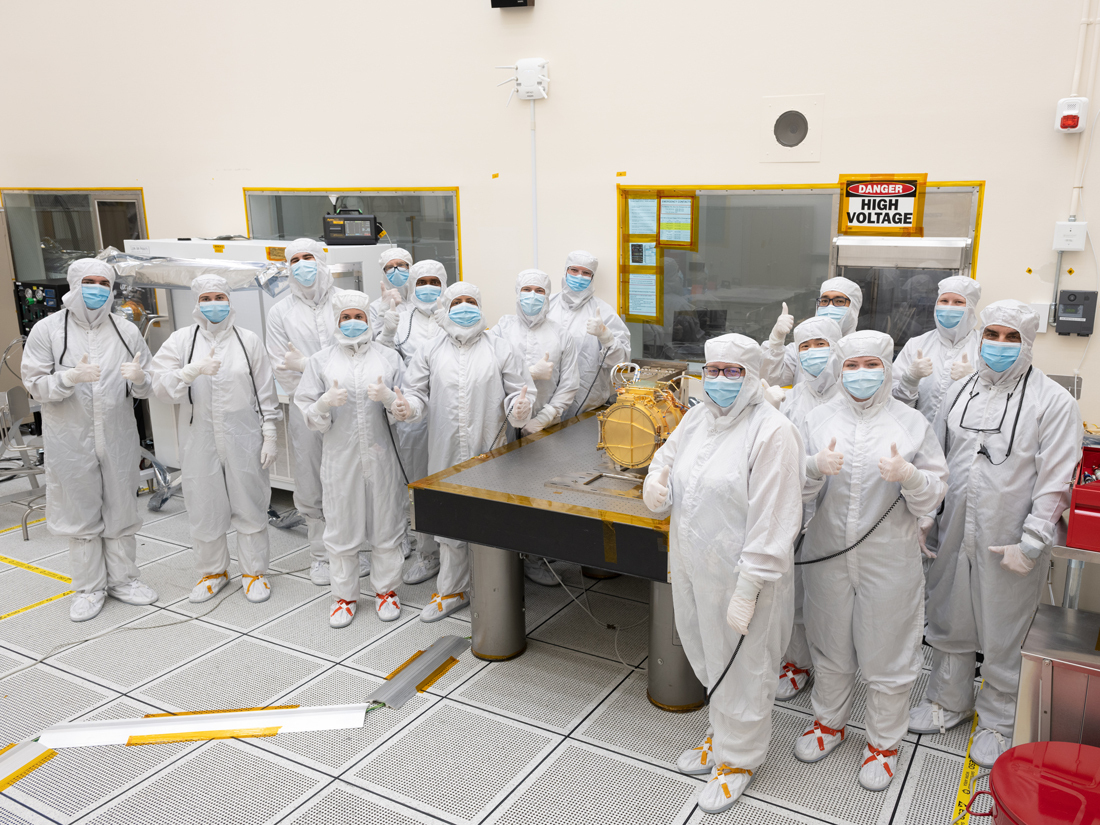 In less than a decade, NASA technology will travel to Jupiter's moon Europa—a cold moon where a thick crust of ice covering the surface obscures a potentially vast ocean of saltwater below.
That piece of technology is the Europa SUrface Dust Analyzer (SUDA). The instrument was designed and built by a team of scientists and engineers at the University of Colorado Boulder's Laboratory for Atmospheric and Space Physics (LASP). It's part of NASA's larger Europa Clipper mission, which will investigate the icy moon.
LASP shipped SUDA this month to NASA's Jet Propulsion Laboratory (JPL) in southern California, which leads the mission. It and eight other scientific instruments are set to launch in October 2024 aboard the Europa Clipper spacecraft, beginning a nearly five-and-a-half-year journey to Jupiter, where it will conduct multiple flybys of Europa.
The instrument's sensor head, which is coated with an extremely thin layer of 99.99% gold, is about the size of a marching drum and weighs nearly 35 pounds. As Europa Clipper flies by its namesake moon, SUDA will collect and analyze particles ejected from the moon's surface by tiny meteorites. JPL scientist and SUDA co-investigator Murthy Gudipati compared the instrument to a shark swimming with its mouth open. Scientists can also use data from the instrument to track where on the surface those particles launched from.
Collecting and analyzing tiny particles ejected from Europa's surface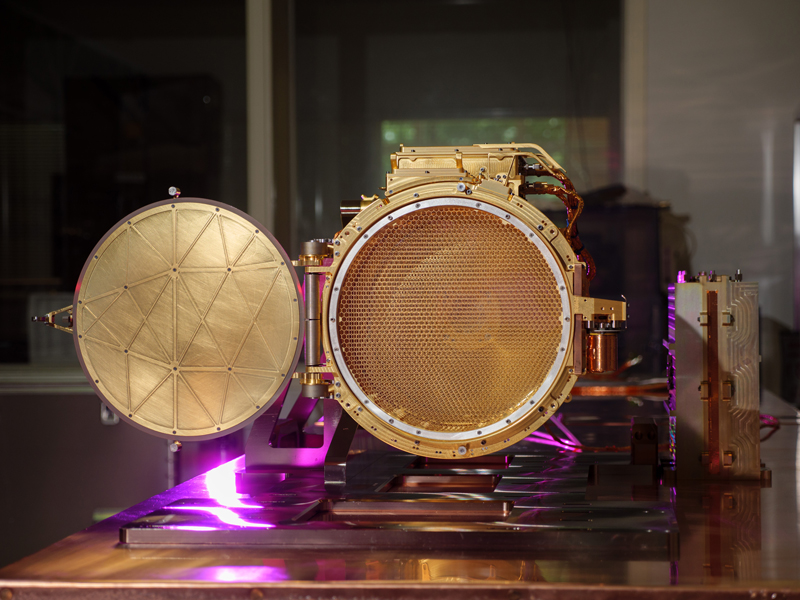 Scientists have long had their eyes on Europa. This ice-covered sphere is slightly smaller than Earth's own moon, and only the fourth largest of Jupiter's moons behind Ganymede, Callisto, and Io. Underneath its miles-thick layer of ice, however, researchers suspect that Europa could hold more than twice the saltwater of all of Earth's oceans combined—an ocean that might also carry ingredients necessary to sustain living organisms, including organic molecules like amino acids.
Europa Clipper is not a life-finding mission. But it will conduct a detailed investigation of the moon and, among other goals, determine if those key ingredients for life are present.
Scott Tucker, the SUDA project manager at LASP, explained that micrometeorites are constantly pinging the surface of Europa. In the process, they kick up tiny particles from the moon's surface, sometimes ejecting these bits of moon stuff several miles into space. Researchers estimate that roughly half a ton of material surrounds Europa at all times.
SUDA will use its wide mouth to capture those particles. These tiny grains will be moving at relative speeds of more than 10,000 miles per hour—so fast that when they hit the target that sits at the back of the instrument, they will vaporize on impact. SUDA collects the ions that escape from those collisions and measures them to determine exactly what the particles were made of.
The instrument is so sensitive that it can detect amino acids mixed in with ice at concentrations of about 1 part per million. Scientists can also use data from SUDA to pinpoint where on the moon those particles originated to within about 10 miles.
Keeping it clean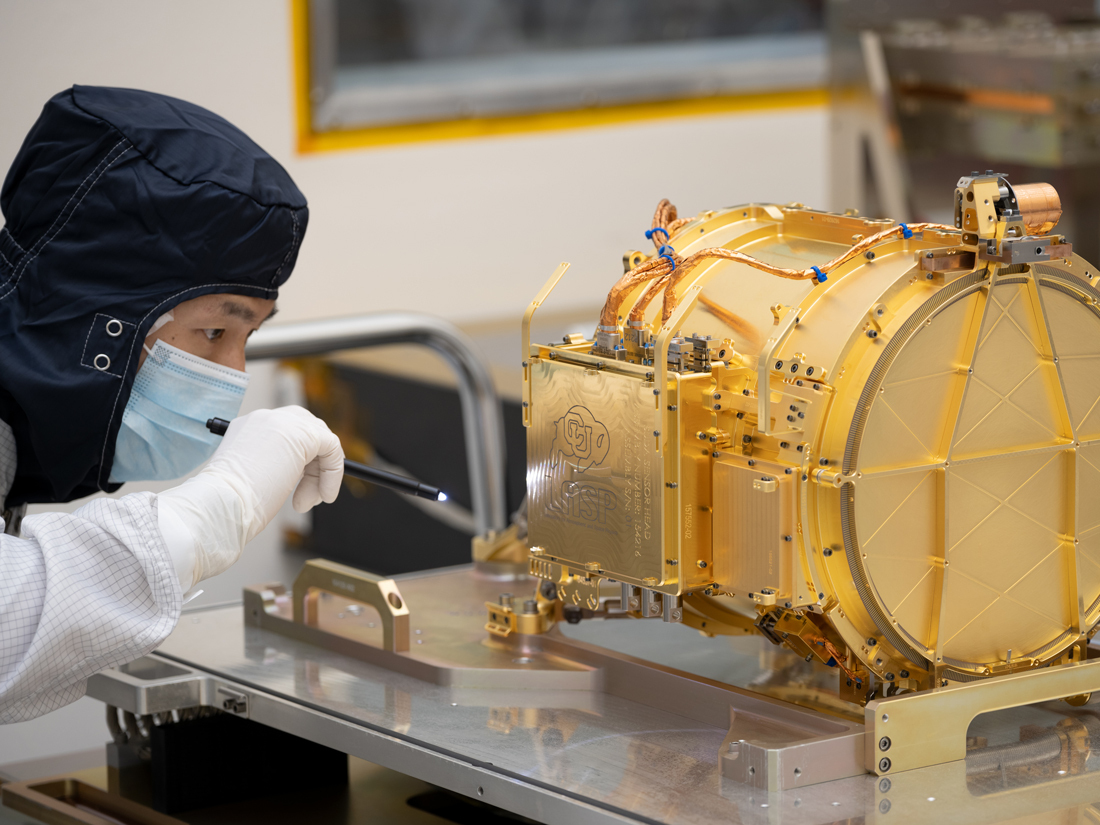 Getting SUDA to Europa, or even California, however, hasn't been easy.
Over seven years, roughly 150 scientists and engineers at LASP have worked on the instrument, including about 40 undergraduate and graduate students.
To make sure that SUDA's target could withstand all of those impacts from dust, the group partnered with researchers at the University of Colorado Boulder to coat this disk in a thin layer of iridium—one of the hardest and densest naturally-occurring metals on Earth.
Sascha Kempf, the instrument's principal investigator, noted that SUDA is also a marvel of cleanliness. The team needs to be sure that SUDA will transport almost no contaminants from Earth to Europa. To achieve that feat, engineers from LASP heated the instrument to 239 degrees Fahrenheit for about 17 hours to kill off living organisms like bacteria. They also ran sterile nitrogen gas through SUDA while working with it to flush out unwanted contaminants from the air.
Read more about the delivery here.