Introduction
They're united by a lofty goal – to determine whether there are places below Jupiter's icy moon, Europa, that could support life. Europa Clipper's scientists and engineers include many stars in the field of planetary exploration. Some came from leading roles in the flyby of Pluto by NASA's New Horizons mission. Several have worked together for decades, exploring Europa and other icy moons with NASA's Cassini, Galileo, and Voyager missions.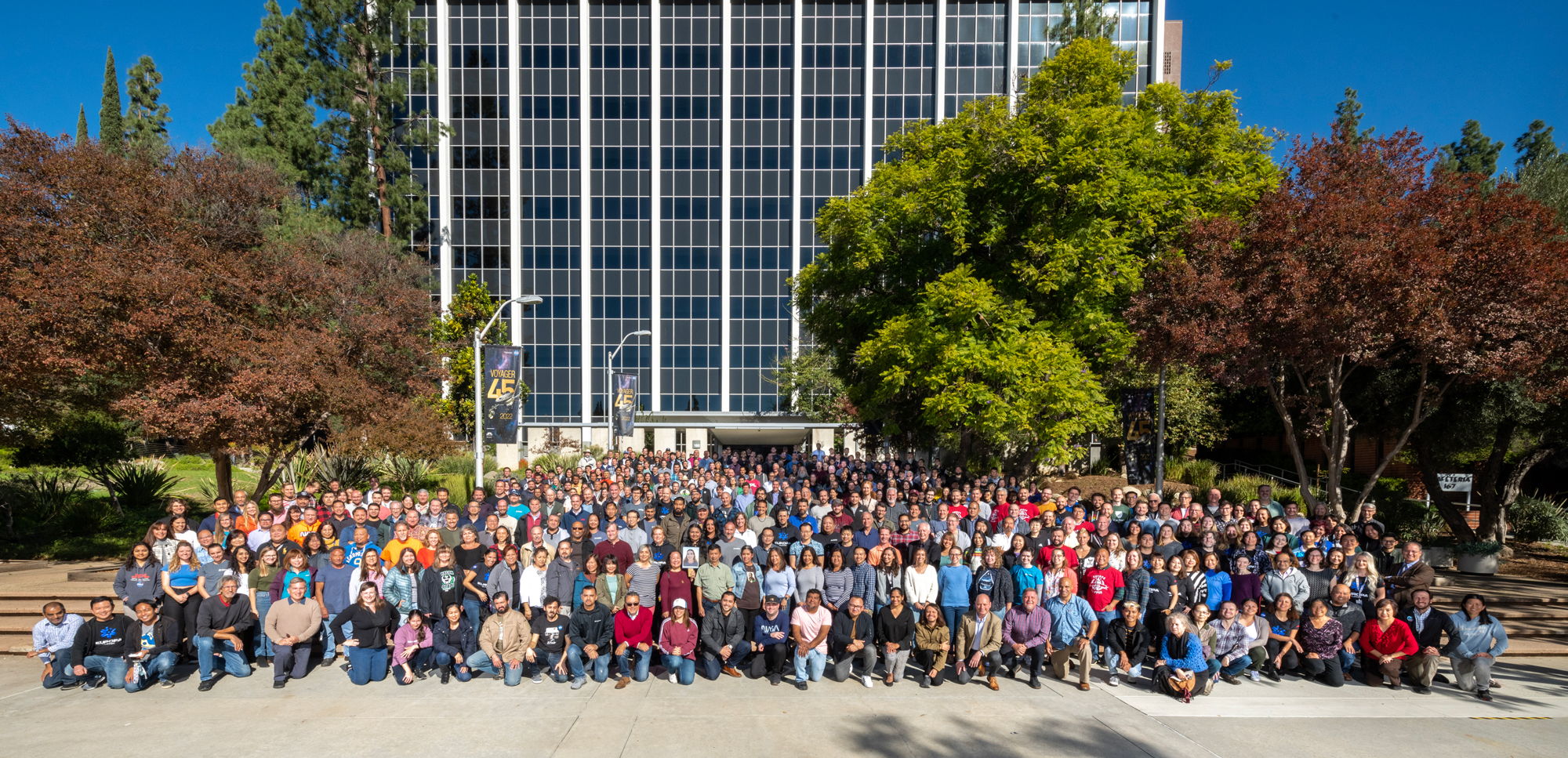 We have a rare and wonderful opportunity with this mission to investigate whether Europa could be an abode for life.

We're in the service of our colleagues, our scientific community, our country, and our fellow human beings. It's a responsibility we take very seriously.
NASA's Jet Propulsion Laboratory (JPL) manages the Europa Clipper mission for NASA's Science Mission Directorate in Washington, D.C. The Europa Clipper mission is being developed in partnership with the Johns Hopkins University Applied Physics Laboratory (APL), Laurel, Maryland. Team Members
Team Members
Mission Management
Project Manager: Jordan Evans, JPL
Project Scientist: Robert Pappalardo, JPL
Deputy Project Manager: Tim Larson, JPL
Assistant Project Manager: Tom Magner, APL
Deputy Project Scientist: Bonnie Buratti, JPL
Deputy Project Scientist: Haje Korth, APL
Program Scientist: Curt Niebur, NASA Headquarters (HQ)
Deputy Program Scientist: Amanda Nahm, NASA HQ
Program Executive: David Lavery, NASA HQ
Program Manager: Scott Bellamy, NASA Marshall Space Flight Center
Lead Project Support: Tara Nelson, JPL
Project Support: Ocean McIntyre, JPL
Project Support: Erin Mitchell, JPL
Engineering Team
Project System Engineer: Joseph Stehly, JPL
Deputy Project System Engineer: Gabby Garcia, JPL
Deputy Project System Engineer: Liz Johnson, JPL
Chief Engineer: Kobie Boykins, JPL
Deputy Chief Engineer: Jason Feldman, JPL
Project Business Manager: Tiffany Daleo, JPL
Science Manager: Brian Paczkowski, JPL
Deputy Science Manager: Trina Ray, JPL
Mission Assurance Manager: Linda Facto, JPL
Deputy Mission Assurance Manager: Michael Kokorowski, JPL
Mission System Manager: Al Cangahuala, JPL
Deputy Mission System Manager: Glen Havens, JPL
Assistant Mission System Manager:
Debarati Chattopadhyay, APL
Payload Manager: Josh St Vaughn, JPL
Deputy Payload Manager: Kevin Clark, JPL
Lead Payload System Engineer: London Lawson, JPL
Flight System Manager: Jeff Srinivasan, JPL
Deputy Flight System Manager: Kendra Short, JPL
Deputy Flight System Manager: Tom Jedrey, JPL
Flight System Engineer: Tracy Drain, JPL
Deputy Flight System Engineer: Carolina Barltrop, JPL
Deputy Flight System Engineer: Kari Lewis, JPL
Deputy Flight System Engineer: Sofia Stachel, APL
Science Team
Project Staff Scientist: Kate Craft, APL
Project Staff Scientist: Rachel Klima, APL
Project Staff Scientist: Cynthia Phillips, JPL
Project Staff Scientist: Ingrid Daubar, JPL/Brown University
Project Staff Scientist: Sam Howell, JPL
Project Staff Scientist: Erin Leonard, JPL
Mapping Imaging Spectrometer for Europa (MISE)
Principal Investigator: Diana Blaney, JPL
Deputy Principal Investigator: Karl Hibbitts, APL
Radar for Europa Assessment and Sounding: Ocean to Near-surface (REASON)
Principal Investigator: Donald Blankenship, University of Texas Austin
Deputy Principal Investigator: Alina Moussessian, JPL
Europa Thermal Emission Imaging System (E-THEMIS)
Principal Investigator: Phil Christensen, Arizona State University
Deputy Principal Investigator: John Spencer, Southwest Research Institute (SwRI)
SUrface Dust Analyzer (SUDA)
Principal Investigator: Sascha Kempf, University of Colorado Boulder, Laboratory for Atmospheric and Space Physics
Europa Clipper Magnetometer (ECM)
Team Leader: Margaret Kivelson, University of Michigan
Deputy Team Leader: Xianzhe Jia, University of Michigan
Europa Clipper's Ultraviolet Spectrograph (Europa-UVS)
Principal Investigator: Kurt Retherford, SwRI
Deputy Principal Investigator: Randy Gladstone, SwRI
Europa Imaging System (EIS)
Principal Investigator: Elizabeth Turtle, APL
Deputy Principal Investigator: Alfred McEwen, University of Arizona
Deputy Principal Investigator: Wes Patterson, APL
MAss Spectrometer for Planetary EXploration (MASPEX)
Principal Investigator: Jim Burch, SwRI
Deputy Principal Investigator: Tim Brockwell, SwRI
Plasma Instrument for Magnetic Sounding (PIMS)
Principal Investigator: Joseph Westlake, APL
Deputy Principal Investigator: Ralph McNutt, APL
Gravity / Radio Science
Team Leader: Erwan Mazarico, NASA Goddard Space Flight Center